Hi folks long time no posting, as usually nowadays. Anyway back now with another edition of this little blog of mine. Last time i wrote about swedish fusion pioneers Hawk on Flight and today i'm gonna write about their most famous member who also was a co-founder of the band. His name is, as the headline reveals, Ulf Wakenius.
He's from my town, Gothenburg in Sweden thou he wasn't born there. Ulf first saw the light in a town called Halmstad located about 150 kilometers south of Gothenburg. It was on April 16 1958. The guitar has Ulf been playing since early childhood and at first self taught. Later he studied at the Gothenburg Conservatoire. His first influence was contemporary blues before swithing over to jazz. He first made himself a name in the 1970:s when he was one of the founders of fusion group Hawk on Flight as i mentioned earlier. Thou Hawk wasn't his only band in the 1980:s he also played in two others called Sundance and Mwendo Dawa. Then in the 1980:s he played with another guitarist from Gothenburg called Peter Almqvist. Together they called themselves Guitars Unlitimed. In 1985 they played for an audience of 600 000 000 tv-viewers. They performed as a "break entertainment" when the Eurovison Song Contest were held in Sweden and Gothenburg 1985.
Guitars Unlimited with Ulf to the left and Peter Almqvist to the right.
A stopover in Rio de Janeiro resulted in not less than 3 albums with brazilian artist Sivuca in 1987.  Another cooperation began in the 1980:s this time with danish musician Nils-Henning Orstedt Pedersen. Together they released two albums in 1996 and 1998. Sometime in the late 1980:s early 1990:s he stayed in New York and recorded his first Ulf Wakenius Group album with american jazz musicians as Jack de Johnette (drums), Bob Berg, Bill Evans (both saxmen), Randy Brecker (trumpet) and danish musicians Niels Lan Doky (piano), Chris Minh Doky (bass) and also swedish bassist Lars Danielsson. He continued working with american session players on the New York Meeting album, picture below, which featured Niels Lan Doky and bassist Ira Coleman and drummer Billy Hart.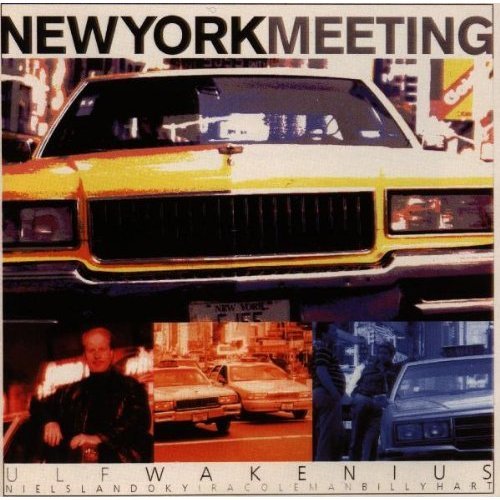 Ulf is very much frequently touring all around the globe and has played and toured with many of the finest scandinavian and european jazz musicians as well as duo tours with his guitarplaying son Eric. In 1997 he became part of the Oscar Peterson quartet with pianist and leader Oscar Peterson, Ulf, Niels-Henning Orsted Pedersen and drummer Martin Drew. He stayed as a member of this quartet until the passing of Oscar on December 23 2007. Another band he was a member of was fusion band Graffiti which featured pianist Haakon Graf, bassist Gary Grainger and drummer Dennis Chambers.
Three quarters of Graffiti, left to right: Dennis Chambers, Gary Grainger, Haakon Graf.
Ulf is a very versatile guitarist who easily can switch between fusion, blues, flamenco as more classic, standard jazz. I've mentioned some, in jazz circles, famous and well respected musicians he has played with and i could easily meniton even more but i won't. I guess you understand that he has played with some of the finest cats around. So if he mainly plays pure jazz and that style isn't very slick why write about him then? If the artist i write about has made only 1 slick song and if i like it and finds it slick enough for this blog so why not! The song i've choosed is from his album Back to the Roots released in 1992 and is called "Go And Get It". It's style has some certain Hawk on Flight vibes going on!                                                                                                                                                  Sorry only Spotify link this time 😦 There used to be a youtube as well but obviously been removed.
Enjoy your listening!!
Tags: #worldofslickmusic #ulfwakenius #hawkonflight #sundance           #mwendodawa #peteralmqvist #guitarsunlimited #sivuca              #nilshenningorstad #jackdejohnette #bobberg #billevans #nielslandoky #chrisminhdoky #randybrecker #larsdanielsson #iranewborn #billyhart #ericwakenius  #oscarpeterson #martindrew #grafitti #haakongraf #garygrainger #dennischambers